die modellwerkstatt
Once in a while, you stumble over a great idea. An idea with revolutionary potential that inspires and drives you. That happened to us in 2008 when we first came in contact with domain specific languages and model-driven software development. Our idea became more and more specific and - in 2009 - die modellwerkstatt was found in Innsbruck, Austria. With a first customer at hand, our journey started and has not lost any appeal yet. After almost 10 years in the industry, model-driven software development is still our passion, generated executable code a proof of our vision.



The team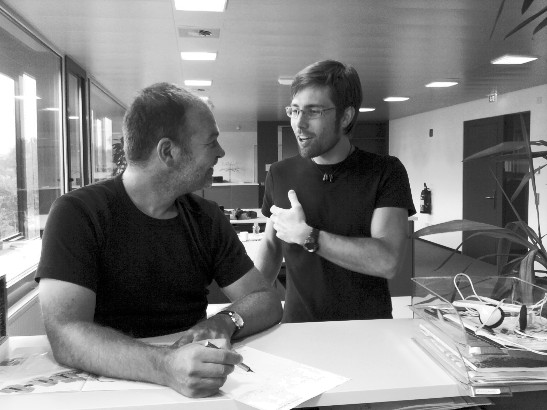 Brainstorming together in 2008
Dipl. Ing. Wolfgang Messner: Wolfgang studied electrical engineering at the TU Vienna and management at the MCI Innsbruck. He held leading development positions in the industry where he first came into contact with model-driven software development while working on extrusion-blow molding machines. He has a strong background in automation technology and software architecture. You can reach Wolfgang via mail.
Dr. Daniel Stieger: After an education (HTL Rankweil) with a focus on computer engineering, Daniel studied business informatics at the TU Vienna, completing his master in business economics at the University Innsbruck. He received his doctoral degree in business strategy and innovation. He publishes in various academic journals and is still active in the research community. You can reach Daniel via mail.
Address
die modellwerkstatt IT-Systemlösungen OG
Andreas-Hofer-Str. 22
6067 Absam