die modellwerkstatt
Modelling, Model Driven Software Development, Domain Specific Languages and Code Generation - die modellwerkstatt.org. We support customers in the development of business applications with our Low-Code Platform as well as in the design of tailored, specific Low-Code endeavours. We are focussed on JetBrains MPS language workbench, drawing on more then 10 years of experience in the field of business applications.
We first came into contact with domain specific languages and model-driven software development in 2008. Our ideas revolving around code-generation became more and more specific and - in 2009 - die modellwerkstatt was found in Innsbruck, Austria. A first initial version of our Low-Code-Platform werkbank was available in 2012. Since then, lessons learned from app development and new emerging technologies were continiously tested and integrated. Model Driven Software Development is still our passion, generated executable code a proof of our vision.



The team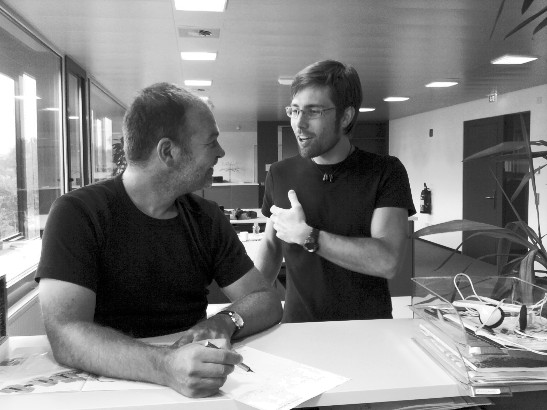 Brainstorming together in 2008
Dipl. Ing. Wolfgang Messner: Wolfgang studied electrical engineering at the TU Vienna and management at the MCI Innsbruck. He held leading development positions in the industry where he first came into contact with model-driven software development while working on extrusion-blow molding machines. He has a strong background in automation technology and software architecture. You can reach Wolfgang via mail.
Dr. Daniel Stieger: After an education (HTL Rankweil) with a focus on computer engineering, Daniel studied business informatics at the TU Vienna, completing his master in business economics at the University Innsbruck. He received his doctoral degree in business strategy and innovation. He publishes in various academic journals and is still active in the research community. You can reach Daniel via mail.
Address
die modellwerkstatt IT-Systemlösungen OG
Andreas-Hofer-Str. 22
6067 Absam